The first stage in building a global brand is to establish a firm in the United States. Famous firms such as Google, Apple, Facebook, Twitter, Uber, Airbnb, and a slew of others were founded in the United States and have now gone global.
Other companies, such as Uniqlo, began in another country and grew to become worldwide brands after achieving success in the United States.
This goes to show that there are profitable business opportunities in the USA for foreigners like yourself.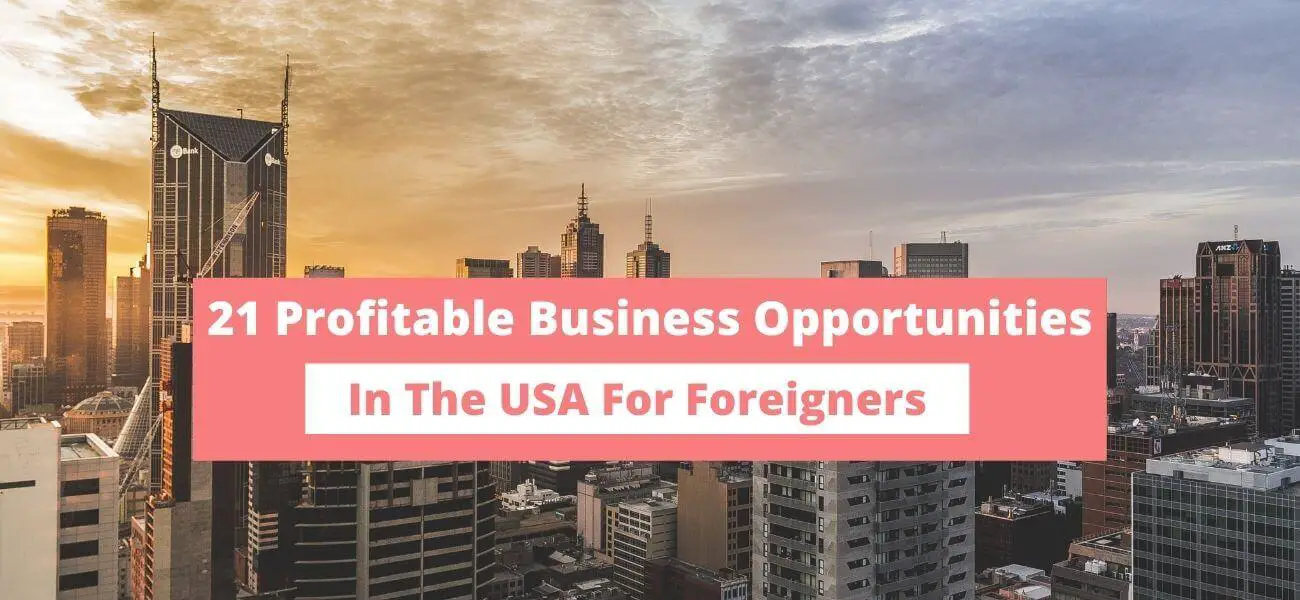 But, as a foreigner, will this be simple? As a foreigner, can you successfully launch a business in America? This post will undoubtedly be a go-to guide to start a profitable business in the United States of America as a non-citizen.
Let's get started.
21 Profitable Business Opportunities in the USA for Foreigners
According to the US Chamber of Commerce, foreign investors with a company or business in the United States employ nearly 6 million Americans.
This equates to an annual payroll of $400 billion.
Thousands of new businesses are started by non-residents every year. The nation accepts this evolution, which recognizes that an inflow of foreigners' businesses creates jobs for Americans, thereby improving the economy massively.
However, you must understand that although the nation accepts this, to excel as a foreigner you must start the best profitable business for yourself. This is usually based on capital and other softly related factors.
Here are the 21 profitable business opportunities in the USA for foreigners:
1. Farming (Livestock)
Livestock farming is one of the most rapidly expanding businesses. You can consider this business as a foreigner because of its financial benefits.
Of course, as a foreigner considering this business opportunity is a great option.
This is a business that can be started in a small area. However, before you get started in this business, you must have sufficient knowledge. Do not forget that proper preparation is very rewarding. 
The following are examples of livestock farming:
Poultry farming

Fish farming

Cattle rearing

Snail farming, and a lot more. 
With Farming, you can create job opportunities in the USA for citizens and foreigners.
See Also: How to Start a Small Business From Home Low Cost)
2. Exclusive Center for Daycare
This is yet another profitable business opportunity for foreigners in the United States. The truth is, the USA comes with a lot of men and women who work hard and wide.
Most times, they want to keep their children who are obviously still very young at daycare centers. These daycare centers would occupy the thoughts of these children with fun and education.
Their parents would work without scary thoughts about the welfare of their kids.
Many daycare centers are thriving in the United States, but there is still a need for more. If you are a foreigner who enjoys working with children and caring for them, you should consider starting a daycare center in the United States today.
However, do not begin in a location that would not suit the business idea.
Increase parental trust by establishing the business in a very good area.
3. Waste Management Control
The #3 on our list of profitable business opportunities in the USA for foreigners is Waste Management Control. Waste management covers a wide range of important subjects, including waste recycling, waste disposal, junk hauling, and so on.
These are all subjects with a lot of profit for a foreigner.
People in the United States that are foreigners can start this business and earn a residual income if they do it correctly and diligently. 
See Also: 21 Best Side Hustle Ideas to Make an Extra $10,000 a Month
4. Importing Agricultural Produce
Quality and natural resources abound in some parts of the United States. Do you believe that? You better do. America has profitable agricultural products that are in high demand in so many nations.
However, you must register with the Export Partners or Associations in the United States, and permission is required before you can begin.
Pick or select agricultural products that are in high demand in other countries and begin exporting them.
If you don't have much money to start your own export company, consider starting locally. Every step taken should be worth it.
5. Call Center Agency
This is extremely popular in the country with over 55% of people requiring service advice and guidance. 
For foreigners or immigrants, starting a call center agency is a lucrative investment. It necessitates financial resources as well as a solid company plan.
You can acquire contracts from huge companies if you are unique and exceptional in the service. 
According to firstresearch.com, call centers in the United States generate a total of $21 billion in income each year, with an operating income of about $4 million.
6. Copywriting Business
Writing services is a viable business opportunity for foreigners living in the United States. As a freelancer, you can make a lot of money.
First and foremost, you must be an excellent writer. Really, you have to be a very good writer. Mediocre works will not fly.  There are numerous companies and individuals willing to pay any copywriter who can provide accurate services.
You can start this type of business from the comfort of your home. Very profitable business idea for any foreigner in the United States.
7. Dry Cleaning Business
 This is a popular growing business in the United States, and many people have made and continue to make it because of the demand.
The truth is that not everyone has the strength or time to wash their clothes, this business is primarily financially beneficial.
In the dry cleaning industry, the average profit margin is around 150 percent. In reality, the average dry cleaner makes $2 or more per garment cleaned.
Revenues likely surpass $200 each day, while costs would be less than half that amount. After deducting all expenses, a small shop can make at least $30,000 in profit per year or more.
8. Food Truck Sales Business
Owning a food truck can be a lucrative business for some owners if done correctly.
According to Off the Grid's Matthew Cohen, the majority of trucks earn between $250,000 and an outstanding $500,000 per year, with the top 25% earning more than $1 million. What a price!
A Food Truck Empire survey in which 223 food truck owners in Florida, New York, Texas, Oregon, and California were asked about their annual earnings.
Below is the result of the survey:
 21.52% earned more than $200,000
 30.04 % earned between $150,000 and $199,000
34.08 % earned between $100,000 and $149,000
10.76 % earned between $50,000 and $99,000
3.59 % earned less than $49,000.
Isn't that amazing, just for food?
9. Adult Daycare Business
If you are a foreigner living here in the united state or planning to relocate to the USA, I'd like you to note that Americans love their elders.
Their parents who cannot afford to stay alone could also profit you if you indulge in an adult daycare center business.
You will find it really profitable. If this strikes you as interesting, learn the major steps to building an adult daycare at 
10. Start a Janitorial Business
The good news is you can start this business from home or a commercial location with a small investment. Carpet cleaners and floor buffers may be among your most expensive startup expenses.
However,  learn how to clean quickly and efficiently. This business is highly profitable, as such recommended for foreigners in America.
You can partner with Airbnb hosts to scale your business.
See Also:How to Make Money on Airbnb Without Owning Property
11. Mobile Detailing Business
Because a mobile auto car wash eliminates the need for a physical business location, start-up costs are significantly reduced. 
As a mobile detailer, washing vehicles, you will work in customer parking lots, driveways, and garages, giving you the advantage of marketing visibility.
The disadvantages include being unable to work outside in inclement weather and having to travel with all necessary tools and supplies, including large amounts of water. But the profit still stands out at the end of the day.
If you are seeking for business to start in the United States, we recommend the mobile detailing business.
12. Real Estate Investment Business
Real estate investment is a very appealing way to build wealth because there are few other business opportunities with such a high potential for profit. 
Stepping out on your own and entering a volatile market, on the other hand, can be a very risky endeavor. Getting your head around the financial and legal issues that come with real estate investment can be a real pain.
Thousands of people do it every day, and the smart ones are the ones who succeed. To succeed in it as a foreigner you must be very smart. 
See Also: Top 15 Proven Real Estate Marketing Ideas
13. Business of Transportation
To begin a transportation business in the United States, one must first determine which aspect of the industry one wishes to pursue.
In the United States of America, the transportation industry includes a variety of services such as limousine or taxi service, courier service, medical transportation, of course, auto transportation, bus companies, and trucking too.
Each type has its own set of challenges, so it's best to pick one that doesn't have a lot of competition in the area where you want to start. 
The profit you can hope to amass as a foreigner in this business is huge.
14. Business of Pest Control
If you want to start a business that will provide you with a steady income, one of your options is to start a pest control business. Yes, it is very much profitable for any foreigner in the United States of America.
Pest control companies remove or eradicate potentially harmful insects, rodents, and reptiles from farms, businesses, and homes.
More than ever before in history, people are becoming increasingly aware of the importance of eliminating things that could harm their health. As a result, you will discover that it is an excellent business to begin.
15. Virtual Doctor Business
Are you a doctor by training? A very profitable business idea to start in America is a virtual doctor business. 
The virtual doctor business would help by allowing people to see doctors at reduced rates and without the unnecessary need of having to leave home.
However, there is a need to develop a website that will showcase credibility and have ready systems to interact with clients as the need arises. 
16. Sewing Uniform Business
If you know how to sew clothes, you can start uniform sewing and make a living doing it. There are numerous colleges in the United States that require their students to wear uniforms.
You meet with the schools, explain your plans, and they may agree to give you the opportunity. Always be on time with your services, uphold your integrity, and be prepared to profit from this business.
17. Refinery Business
The oil and gas industry is one of the most lucrative business opportunities for foreigners, and it is the world's top money-making sector.
People who are involved in it make a lot of money. As a foreigner, you can set up your own private refinery and expand it over time.
Before you begin, you must first obtain a license.
18. Start a Job Agency Business
Many foreigners, particularly Africans, mistakenly believe that America is a land of roses. However, there are unemployment issues, and many people are still looking for work.
This is where working as a recruitment agent pays off. Consider becoming a recruiter and assist people in landing their dream jobs. You simply need to form partnerships with various organizations (companies) and recruit job seekers for them.
You continue to expand with a lot of profit as time goes on.
19. Tour Guide Business
There are many tourist attractions in the United States, including the Bosporus; a water canal and continental border, the Sultan Ahmed Mosque, and many other must-see sites in various cities.
The United States is the world's sixth most visited country. So, if you choose to work as a tour guide, you can expect a good profit margin on the go.
20. Start Your Native Restaurant
Opening a native-inspired restaurant is another good business opportunity for foreigners in the United States. This is supposed to be a restaurant serving regional cuisine and locally brewed beverages.
The truth is that if you can successfully launch this type of business in the United States, you will not have difficulty attracting customers on a daily basis because there are a large number of immigrants who yearn to eat locally inspired cuisine.
Just make sure you know how to prepare the most popular meals in your country, and you'll be fine with the business and the money you make.
21. Computer Consultation Business
This other type of business that Indians do well in the United States is computer consulting, and you can capitalize on their business acumen in this area to start your own computer consulting firm. 
As a computer consultant, your primary goal should be to improve your client's business by implementing adjustments relative to your assessment; you should be able to do so within a reasonable time frame.
Corporations are willing to pay a high fee if it means they will get results. If you don't have a track record that shows you know what you're doing, no business person will be willing to pay you for IT consulting services.
It's one thing to persuade a client to use your IT consulting services, and quite another to follow through on your promises.
Frequently Asked Questions
Can a Foreigner Start a Business in America?
The American aspiration of owning a business is not exclusive to citizens of the United States. Starting a small business in the United States does not require citizenship or residency.
Non-citizens must, of course, follow certain rules and procedures in order to make their desire a reality. So yes, you can start a business in America as a foreigner or a non-citizen. 
Where Can I Set Up a Business as a Foreigner in the USA?
Choosing a business location is possibly the most important decision you will make if you plan to start a business in the United States.
It entails studying informative demographics, evaluating your immediate supply chain, scouting the obvious competitors, sticking to a fine budget, comprehending state regulations and taxes, etc.
Fortunately, you don't have to incorporate your company in the same state as its physical location.
When a person of the United States plans to set up a new company, they will probably end up established somewhere close to home.
Non-residents who want to start a business in the United States can do so in any state they want. It can be difficult to decide which state to begin in.
The 50 states and the District of Columbia are collectively known as the United States of America. A foreign entrepreneur or corporation should think in terms of states because, to start a business in the United States, you must first select a state in which to do so and a state in which to incorporate.
The states are all different sizes, ranging from tiny Rhode Island to massive Alaska. Wow! To population size, which ranges from California (which has around 40 million people) to Wyoming (smallest, with less than 600,000).
In most cases, a US company owned by a non-resident will benefit from:
 International flight easy access

A state with a very good health market expansion, easy access to banking services, proper education ratings, conducive population for the type of business, and proper infrastructure. 

Low to moderate incorporation fees, quick set-up time, and minimal information requirements
Conclusion
With the list of business opportunities, it is evident that you can start a business in the United States. 
However, as a non-citizen, you'll have to do more work and face more challenges. These challenges, however, are far from impossible to overcome when you enlist the assistance of knowledgeable professionals to direct you through the procedure.
I recommend that you seek the advice of auditors and lawyers who have experience assisting foreigners in establishing businesses in the United States.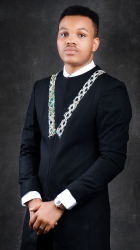 Latest posts by Harrison Acha
(see all)